I can see why Sandra Bullock was choose as the Most Intriguing Newsmaker of the year! She went through a lot this year but she never let it break and I respect that and to me she is a role model!
http://www.people.com/people/article/0,,20449594,00.html
PEOPLE's Most Intriguing Newsmakers Revealed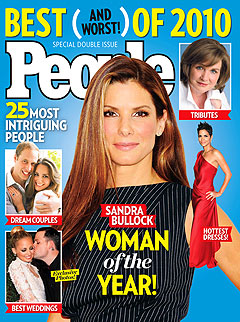 For Sandra Bullock, 2010 was the year that changed everything: She became a mother to son Louis, ended her five-year marriage to Jesse James and reached new career heights with her emotional Oscar win for The Blind Side.
It's only fitting, then, that the superstar, 46, scored the top spot as Woman of the Year in PEOPLE's new Year-End issue. Of the actress's life-altering 2010, says a source, "Bad things happen, but she celebrates the good ones. And Louis is a wonderful celebration of good things."
Also making the cut as the year's most intriguing figures:
• Bret Michaels (the Ultimate Survivor), who survived a near-fatal brain hemorrhage in April: "I don't want my legacy to be a hemorrhage," he tells PEOPLE. "I want it to be: I'm a fighter, I'm passionate, I'm hardworking and I love music."
• Kim Kardashian (the Entrepreneur), who turned her reality TV stardom into a multi-million dollar empire.
• Kate Middleton and Prince William (the Royal Couple), who captured the world's imaginations with news of their engagement and preparations for their upcoming April nuptials.
• Elin Nordegrin (the Class Act), who showed grace and poise following her split from husband Tiger Woods in the wake of his cheating scandal.

For the complete list of PEOPLE's most intriguing newsmakers of 2010 – and a round-up of the year's splashiest celebrity weddings, splits and babies – pick up this week's issue of PEOPLE, on newsstands Friday