And the Prince and Princess lived happily Ever After… I know cheesy right but I couldn't resist myself lol!
http://www.people.com/people/package/article/0,,20395222_20485889,00.html
Prince William & Catherine Middleton Kiss Twice at Buckingham Palace
By Alison Schwartz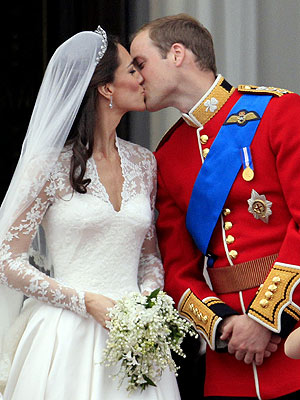 Matt Dunham/AP
Vows were exchanged and the wedding dress was revealed, but royal watchers around the world were still waiting for that magical moment – when Prince William and Duchess Catherine Middleton stepped out onto the balcony of Buckingham Palace for their first kiss.
At 1:25 p.m. London time, the fairy-tale moment unfolded, and the newly ennobled Duke and Duchess of Cambridge shared their first public kiss in front of thousands, who swarmed around Buckingham Palace to get a glimpse of the newlyweds in person.
After waving to the crowd, with beaming smiles, the pair shared a demure peck while surrounded on all sides by their family. As the crowd cheered (some begging for more), the couple went in for a second, slightly longer kiss.
And that balcony has historical significance: 30 years ago, Prince Charles and Princess Diana kissed in the same spot following their wedding.