Frankie says that she should say something to her boyfriend I say she should keep it to herself and never do it again and just learn from her mistake! What do you think?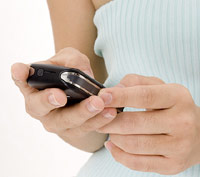 Image Via Google
I'm about to admit something that I'm not even a little bit proud of:
I've been going through my boyfriend's phone and reading his text messages.
And before everyone gets all judgmental on me, I'm sure that more than half of you can admit to doing the same exact thing at least once, if not on a regular basis.
The thing is, I've recently realized that completely disregarding my boyfriend's trust and going through his phone like a crazy woman isn't helping me feel any better about anything.
I used to think it would soothe my panicked nerves, that it would allow me to trust him.
But due to my most recent experience with snooping,
I've discovered that it's actually probably one of the most terrible ideas I've ever had.
Realizing he's a good guy (he's really big on trust in a relationship)…..I wan't to be totally honest with him.
Should i tell him what i've been doing??
Do you think he'll dump me?