Wow I can't believe he was actually convicted… I didn't really know which way this was going to go.
The only people I feel that have been affected by this whole ordeal would be Michael's children the media hasn't let them forget and some things they don't need to know especially at their age!
http://www.people.com/people/article/0,,20543523,00.html
Michael Jackson's Family: Tears and Relief After Guilty Verdict
By Mike Fleeman and Howard Breuer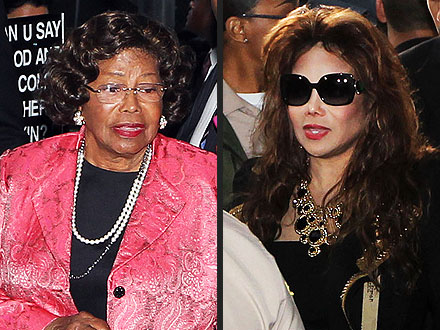 Katherine and La Toya Jackson, Splash News Online(2)
Throughout the six-week trial, they always felt his presence. Now they can take some solace in a courtroom victory.
Michael Jackson's family cried, shouted and finally gave a sigh of relief after his personal physician, Dr. Conrad Murray, was convicted of involuntary manslaughter Monday in the pop star's death.
"He was in that courtroom and that's why victory was served," Jackson's sister La Toya told CNN's Headline News while leaving through courthouse through a gauntlet of reporters.
Added his other sister Rebbie: "I'm just happy it's over with. Nothing will bring him back, but I'm just happy (Murray) was found guilty."
As the verdict was read, a shout came up from the audience section of the courtroom where Jackson's family sat. La Toya cried, "Yes!" and Jackson's mother Katherine quietly dabbed tears.
Murray remained stoic while hearing the verdict, but then appeared bewildered as a sheriff's deputy handcuffed him behind his back and led him away to jail, where the doctor was ordered to remain without bail pending sentencing.